Newsletter - October 2023
23/10/2023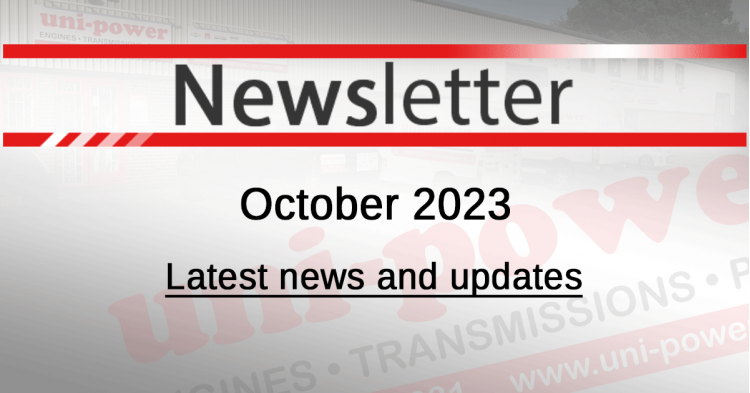 End of production for Lombardini/Kohler engine models LDW1404/KDW1404, LDW502/KDW502 & LDW492/KDW492
By 2024 Lombardini/Kohler will end the production of these engine models. We are collecting the last time buy orders for replacement specs that will assure you a prompt availability in case of requests from your customers. Should you be interested, we ask for an initial indication of specs and quantities by the end of November 2023. While your confirmation by order should be made by January 2024.
Please note, that following the phase out of these products the availability of these particular engine models will be limited.
---
Kubota Engines Stocktake
Kubota UK Limited would like to make you aware that this year planned annual stocktake dates have been confirmed. It will now take place as follows: Monday 6th November 2023 – Friday 10th November 2023.
During this period the Kubota UK warehouse will be closed to perform the stock check. No movements of goods will take place until after the stock check has been completed. If you require any engines or parts, please plan these accordingly with us.
---
New Lower Trade Prices for Diesel Engines
We have recently lowered prices for the majority of our Diesel Engines, contact us now for a quote!
---
Tuff Torq, Hydro-Gear & Peerless Transmissions & Parts
We are the sole UK Official Distributor for Tuff Torq & Hydro-Gear, as well as being an Official UK Distributor for Peerless.
With full Service/Warranty back-up support & years of experience with these products. All popular Transmissions & Parts kept in stock for fast delivery!
---
Hatz Filter Kits & Maintenance Components
Please see the brochure at: www.uni-power.co.uk. Special pricing available for bulk purchases!
---
Kawasaki Engines "Find a Dealer"
Now that winter is drawing in, customers will be heading to the Kawasaki Engines website to search for their local authorised dealer to book in their mowers for a winter service.
Please contact us if you wish for your company to be added as an Authorised Kawasaki Engines Dealer.
---
New Phone System
We have recently had a new phone system installed & have received some reports that our phone number does not work; to confirm, our phone number has not changed.
If you are trying to call us on 01371 875331 (our main telephone number) & are getting an error message, please can you send an email to: info@uni-power.co.uk or use our contact form: https://www.uni-power.co.uk/contact-us/ask-an-expert/ to let us know that you cannot call us; we will then contact you to assist with your enquiry.
The way you would dial a direct extension number from the phone menu has changed. Instead of just dialling the extension number, EG: 26, the new phone system now requires you to dial *00 before the extension number, EG: *0026.
To dial a department from the main menu has not changed:
Dial 1 for all Parts and Sales enquiries.
Dial 2 for Service & Warranty enquiries.
Dial 3 for Account enquiries.
We are working hard to rectify all issues as soon as possible, thank you for your patience.