Uni-power Coronavirus (COVID-19) Notice
13/01/2021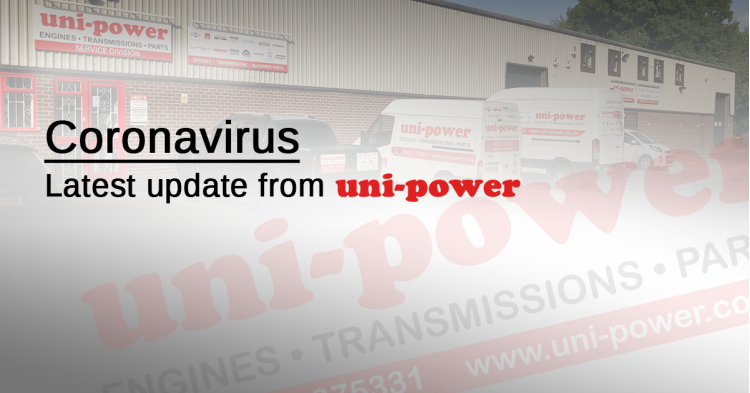 We hope you are safe & well in these difficult times…

We remain open & operating as normal, but with the below points to take note of:
Staff will adhere to the full list of Government guidelines at all times; we request that Customers, Carriers & Suppliers also observe these guidelines.
Certain office staff will be working from home, although staff imperative to daily operations will continue to work from our warehouses/office facilities.
Our Trade Counter & Service Division will remain fully open, but with the following COVID-19 measures in place:
Observe social distancing, only one person allowed inside at any one time.
Both Unit 8 & 9 front doors will be locked; please ring the doorbell, a member of staff will let you in & lock the door behind you.
Face masks must be worn.
Hand sanitiser to be used upon entry & exit.
Counter screens are in use.
Contactless payment is preferred.


Delivery times may be affected during the pandemic, as UK parcel carriers adapt to the situation. We can still dispatch parcels on services which are normally next working day, but we cannot guarantee a next working day delivery.
We are experiencing an extremely high level of demand for our services during the pandemic, therefore enquiries & orders are taking us longer to process than usual; we ask that you please bear with us during this time & utilise our website www.uni-power.co.uk whenever possible for part number enquiries, prices, discounts, part availability, supplier lead-times, carriage charges, wholegoods NET prices & to place your parts stock orders etc.
In addition, whenever possible, please use department email addresses to contact us, rather than individual staff email addresses; this will ensure that your enquiry can be seen by all members of that department & should yield a quicker response:
Parts & Sales: info@uni-power.co.uk
Service & Warranty: servicedept@uni-power.co.uk
Accounts: accounts@uni-power.co.uk
We trust you will observe the above points & can appreciate the actions we are taking; please stay safe…!.
The Management Team.
Universal Engine Power Ltd.
(T/A uni-power)