Pre-Season (Winter Stock) Offer 2019-20
30/09/2019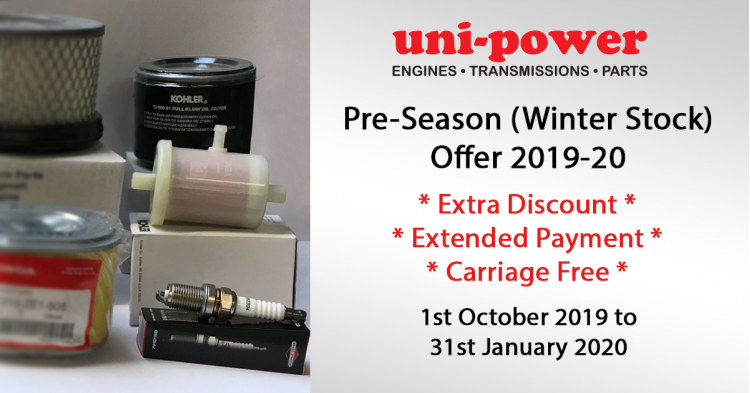 Ordering Period: from 1st October 2019 to 31st January 2020.
Delivery Period: as soon as majority of items on each order are available from stock.
Extended Credit Terms: no payment until 31st March 2020.
FOC carriage for Parts to standard UK locations (Other areas charged @ cost).
Oil Products/Engines/Transmissions-standard carriage terms apply.
Minimum Parts Order Value: £500.00rrp combined for all products.
No minimum Engine/Transmission order value but must be combined with a parts order.
Multiple orders can be placed-clearly marked "Pre-Season/Winter Stock".
Orders can be placed via our Webcart, we will apply the additional discount prior to processing.
NB: All Special Terms Accounts will receive their usual Discounts/NET Prices.

The full Offer can be downloaded from our Website www.uni-power.co.uk
Or requested via info@uni-power.co.uk / 01371 875331.