Newsletter - May 2022
29/04/2022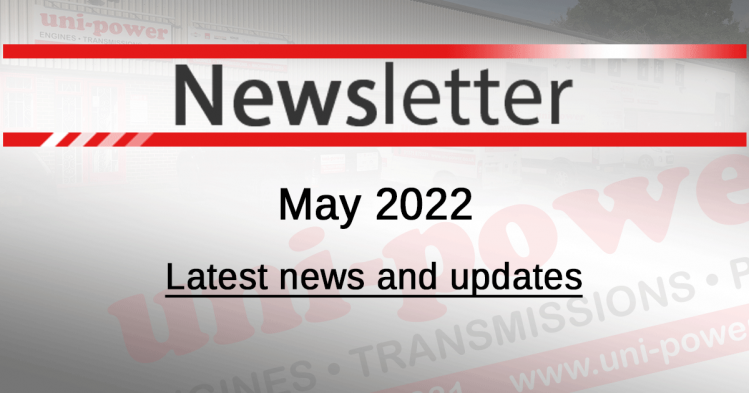 Engine & Transmission Manufacturer Supply Delays.
*Lead-times are increasing, please urgently review your current stock & future requirements*
Production capacity, component sourcing, shipping constraints & post-Brexit delays remain an issue across all manufacturers.
We strongly advise all customers (Especially OEM's) to confirm current & future requirements ASAP (Covering both 2022 & 2023).
Place firm orders now with future call-off dates to get in the queue for our current stock & future deliveries.
---
ETA's / Delivery Dates
During the current global supply/shipping crisis, please be advised that all ETA's/delivery dates advised to you are estimated & cannot be guaranteed.
Please utilise our supplier emergency order options for items that are required urgently (Reduced discounts & emergency order/carriage charges will apply in most cases).
---
Supplier Price Increases.
Effective for all deliveries from the dates shown below (Regardless of when the order was placed).
New price lists will be available to download from our website shortly prior to the effective dates.
Hydro-Gear Parts & Transmissions: 1st May 2022.
Honda Engines: 1st June 2022 & 1st September 2022.
Yanmar TNV/TNM Engines: 1st May 2022.

---
EU Sourced Items
Due to Brexit Customs charges, we have now had no choice but to reduce discounts by 5% for the following items from 1st May 2022:

Kawasaki Parts.
Kohler Petrol Parts.
Lombardini (Kohler) Diesel Parts.
Hydro-Gear Parts & Transmissions.
Peerless Parts & Transmissions.
Tuff Torq Parts & Transmissions.

---
Service Division Charges
Due to ever increasing costs, we have reviewed & amended our Service Division charges; effective from 1st April 2022.
---
General Discounts
Remember, the more you spend with us, the more discount you will be awarded (Reviewed annually in January).
Refer to our product lines, consolidate your supply & use us as your one-stop-shop.
Discount schedules can be downloaded from our website.